Part IX – TFP Founding — Books, Activities, and Campaigns of Great Repercussion in the Sixties
Death of Pius XII and Election of John XXIII
1. Election of John XXIII: How I Got the News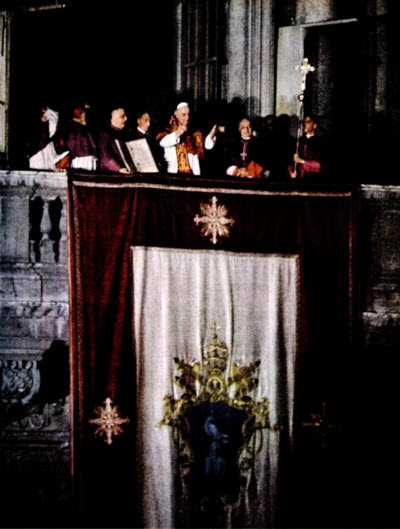 John XXIII's First Blessing "Urbi et Orbi"
I remember perfectly the day I received the news of the election of John XXIII. We were at the Vieira de Carvalho Street seat listening to radio news on the death of Pius XII and the election of his successor. [1]
I had a faint hope they would elect another Pius XII that would maintain Church affairs more or less on an even keel. [2]
At one point we heard the music of the Vatican Swiss Guard that precedes the urbi et orbi announcement of the new Pope's election. A cardinal came to the microphone and said: "I announce to you a great joy: habemus Papam in the person of Angelo Cardinal Roncalli, who has taken the name John XXIII."
Then the Swiss Guard played a new music. And then I had a hunch of a coming collapse of all traditions. [3] I knew perfectly well who Cardinal Roncalli was. [4] I saw everything at once and drank all the bitterness at that moment.
What followed was a very great sadness. The question was to whether accept this sadness, but potentially it had already been accepted. [5]
2. The New Pope Announces the Convening of the Council
On January 25, 1959, three months after his election John XXIII announced his intention to convene a Council to meet at Saint Peter's in Rome. It would be history's largest.
One can imagine my chagrin as I learned, later on, that John XXIII had invited to the Council observers from all denominations, including from the pro-communist O.C. (Russian "orthodox" church). [6]
*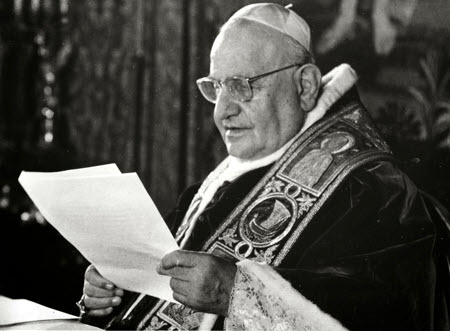 Opening speech of the Council by John XXIII
The announcement of the Council's convening reached me during a session of Catolicismo's Seventh Study Week being held in a now demolished palatial house[7] called Imperial Camargo, located on Angelica Avenue at the corner with Alameda Barros in São Paulo. [8]
As Dom Sigaud and I were chairing a meeting, [9] someone behind the table handed me a newspaper pointing at the news of the convening decree.
I read this news and then passed the paper under the table to Dom Sigaud.
He also read it, and carefully.
Then he told me what he thought at the time: "It's all solved: the Holy Father will now set straight all the bishops' little heads and the Church's problem will be solved." The Pope was John XXIII.
I thought the opposite: "These are the States General of the Church, the beginning of the Revolution in the Church." [10]
I meant to tell him that but noticed I would not find the slightest resonance.[11] I saw the French Revolution, he saw the Reign of Mary. [12]
*
Not long after that I realized that Dom Mayer and Dom Sigaud were not studying or preparing for the Council's debates. And I separately expressed my concern to both.
To Dom Sigaud I said, "This is an unparalleled opportunity for us to exercise our apostolate. Now, if Your Excellency does not study in depth…"
To Dom Mayer I remember saying that in a low voice as we crossed Republic Square in a taxi cab. We were passing right in front of the Caetano de Campos School.
When they arrived in Rome they were "green" for the Council and allowed themselves to be completely subdued by that environment. [13]
Our Secretariat in Rome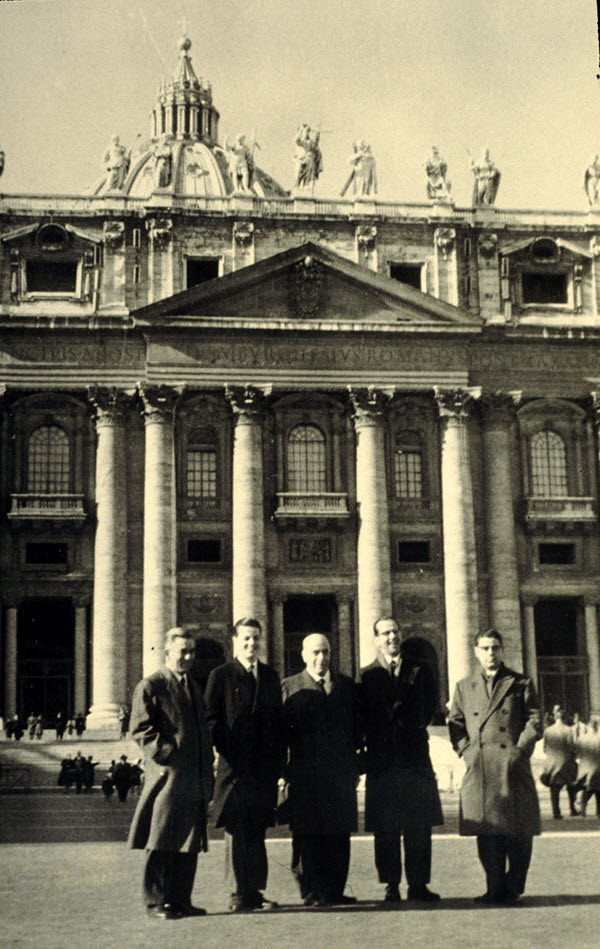 In the first phase of the Council, Plinio Corrêa de Oliveira and the secretariat of the Catholicism group set up in Rome worked with commitment in two initiatives of historical scope [see Chapter IX] . In the picture, Plinio and some members of the secretariat in front of St. Peter's Basilica.
1. Serial Trouble
My presence in Rome [14] during the Council was not a juxtaposition of pleasure and contentment on the one hand and severe regrets on the other. [15] I was saddled with concerns. [16]
That stay was so painful to me that when I came back to São Paulo and stomped the ground I had a sense of relief: "It's finally over!"
Why? Because during all this time, within the Council and therefore within the Church, everything worked out badly and in the wrong direction.
2. The Shocking Way of Being of Many Bishops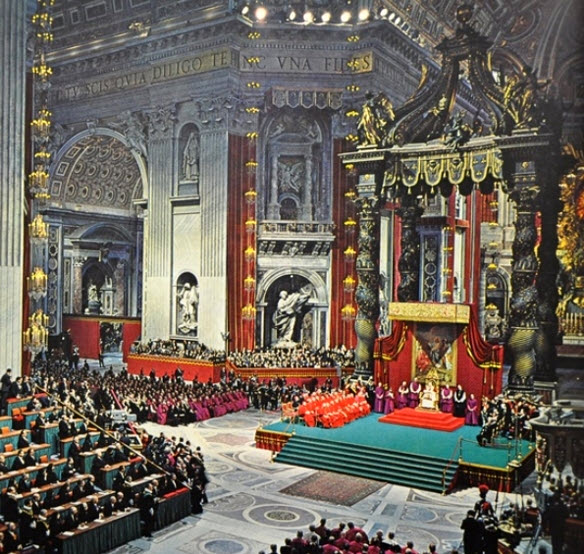 Opening of the Second Vatican Council
My first intention was to always attend the Council's sessions because it meant watching the Church in her greatest pomp, installed with two thousand bishops in that colossal building of Saint Peter's Basilica, all with miter and crosier. I could stay there four to five hours just looking at that protocol and splendor.[17]
But I only went once. And later I did not set foot in the Basilica except when attending a Mass celebrated by Bishop Mayer at the altar of Saint Pius X during the closing of the first phase of the Council.
We were all leaving Rome and the Mass closed that phase of activities. Except for that, NO, so saddened I was, to say no more, over the conduct of the Council.[18]
*
I was particularly displeased seeing the bishops arrive at the sessions on collective transportation rather than cars.
Sometimes they came on buses bearing the names of girls' schools: Collegio delle Bambine, Collegio del Sacro Cuore.
Eastern bishops would get off the buses and don their habits right in the square. It was something one could not understand.
"Separate brothers" - At the reception for non-Catholic observers, called "separate brothers"," we see Cardinal Bea (centre), in charge of promoting christian unity; and orthodox and Protestant observers [Life, Vol. 53, No. 18, November 2, 1962]
The same thing happened as they exited from the sessions: they would take off their habits in a hurry at the church lobby because they had to get back in time for lunch at the school. So they did everything running, and playing around.
3. Disagreeable Presence of Greek-Schismatic Bishops
A greater displeasure, as I explained, was caused by the presence of Greek- schismatic bishops in a Vatican gallery.
There were seven or eight popes with those black hats, moustaches shaped like threads, shining and malevolent black eyes.
They said nothing but paid attention on everything.[19]
In a word, they were representatives of the Kremlin, slaves of Communist atheism, and yet they were there with all the bishops of the Earth.[20]
4. Dom Sigaud, Dom Mayer, and the "Coetus"
We had rented a seat in a very nice neighborhood of Rome called Parioli. There we had a large house and many from our group were housed in it.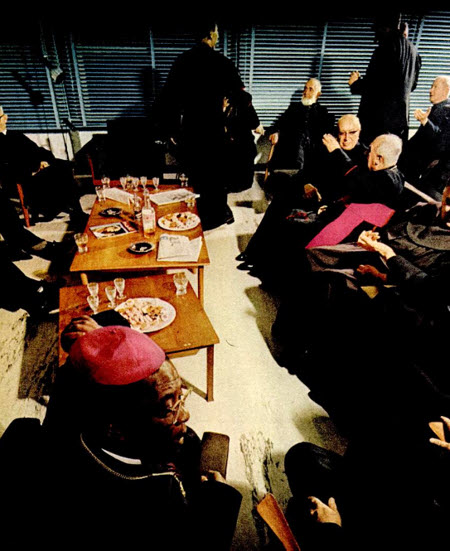 At a Societas Verbi Divini institute, a missionary organization operating in 33 countries, a group of Bishops relaxes with Scoth and Cognac [Life, Vol. 59, No. 25, December 17, 1965]
Dom Mayer came to this seat every afternoon and participated in a daily meeting we held, which consisted of two parts.
The first part was about what had happened at the plenary of the Council, and the other part covered the work of the right-wing Coetus:[21] what plans did it have, how their implementation had worked out that day, and what were the plans for the following day. As such it was something very interesting and the reason why we were there.
But he would also tell funny things that had taken place during the session. For example, he said that inside the Basilica they had set up several small snack bars for the bishops to eat or drink coffee, tea, a soft drink or a quick snack.
Since "bar" in Hebrew means "son of", the bishops began to call those places Bar Jonah (son of Jonas), Barabbas... There they would joke around and mock one another in a way that absolutely did not correspond to their responsibility in a Universal Council.
They would finally get tired and return to the assembly to take part in the discussions...
Those discussions, of course, were completely controlled by the Vatican. Anyone who did anything outside the guidelines would expose himself to be severely reprimanded. So the bishops toed the line.
The Coetus' right-wing prelates would make plans but would later absurdly allow themselves to be deceived.[22]
There was a whole series of facts like that.
We suggested to Dom Sigaud and Dom Mayer to take such and such attitude, but they gave it no importance. A hotel concierge had as much influence over the Council as we did. And that after we had spent a huge — but huge! — sum to be present and in some way act on the Council.
5. Sabotaged at a Press Conference: Too Conservative!
Both right- and left-wing laymen were invited to hold press conferences for journalists and politicians on points they wanted to be informed about.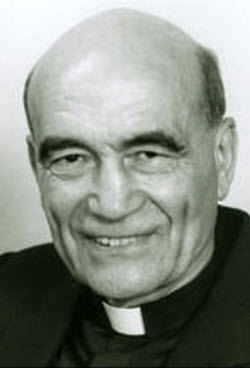 Father Ralph Wiltgen, SVD
Those meetings were scheduled to take place at a convent of the Divine Word Fathers, the religious congregation to which Dom Sigaud belonged.
I was also called to those meetings. And I went there.
A German Father of the Divine Word, who had much sympathy for us, welcomed me very well: he was a great friend of Dom Sigaud's. His name was Father Ralph Wiltgen.[23]
That priest told me:
"According to the schedule, it is now your turn to hold a conference. Let's go to the press room, as people are already waiting."
As we go in a priest shows up, asking:
"Who's this man?"
"He is Professor Plinio Corrêa de Oliveira, from São Paulo."
"He did not have to speak. Why would he need to speak?"
He said it just like that, with that brutality!
Our priest friend courteously replied:
"He's on the list of invitees. There is no reason for him not to speak."
"No! No! He's very outdated, very conservative. Isn't there a way to get him off?"
Father Ralph Wiltgen said:
"No, there is no way! Professor, please take the chair as they're already waiting for you."
So I held a press conference with men I hardly knew who they were. Everything was poorly arranged.[24]
After the conference was over, one of those priests told me:
"You're relieved from other conferences. There was a mistake and your name is not on the list."[25]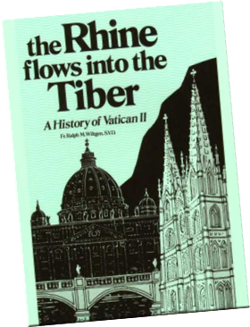 *
Father Ralph Wiltgen later wrote a celebrated book whose title at first seems extravagant but is fully appropriate: The Rhine flows Into the Tiber.
Since those rivers geographically do not meet, it was a way of saying that the theological and philosophical ideas of the worst German modernists were widely represented among the Council's theologians and philosophers, and therefore those ideas held great sway.[26]
Two Historic Petitions Left Unheeded: Consecration of Russia And Condemnation of Communism
1. Genesis of the Petition to Consecrate Russia to the Immaculate Heart of Mary
There were two historical initiatives to which we earnestly committed ourselves, both also boycotted during the Council. The first was a request that Russia be consecrated to the Immaculate Heart of Mary, and the second that the Council issue a condemnation of communism.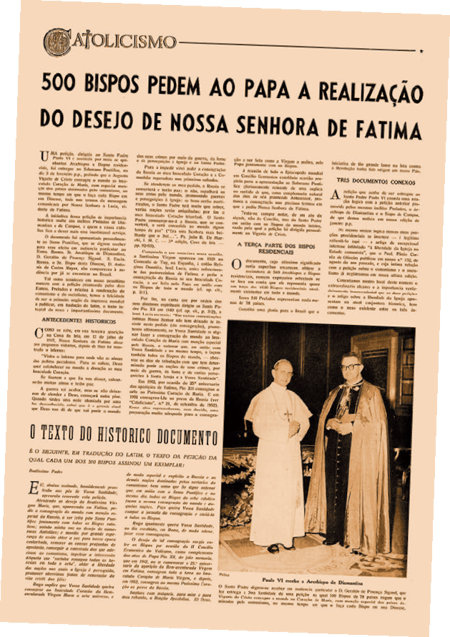 In the second [initiative of the secretariat], Dom Sigaud delivers to Paul VI the petition of 510 Prelates (78 countries), who begged the Pope to consecrate Russia to the Immaculate Heart of Mary. This petition echoed the express request of Our Lady, until today mysteriously not attended.
As to the former, the idea was born of a conversation, which should be recorded in the annals of our history, maintained with Dom Sigaud and Dom Mayer in a living room at the Morro Alto farmhouse in Amparo.
There I had the opportunity of expounding to the two bishops how it was highly advisable to promote that plea for the consecration of Russia according to the message of Fatima.
Sister Lucia had said that consecration was one of the conditions the Virgin Mary had set in order to ward off the threat of punishment hanging over the world. And Our Lady had established certain conditions for the consecration to be valid.[27]
The consecrations of the world and "of the peoples of Russia" to the Immaculate Heart of Mary that Pius XII made in 1942 and 1952 did not meet the conditions Our Lady requested.
I read this in books published about the subject. And I also heard it personally from the Archbishop of Coimbra, Most Rev. Ernesto Sena de Oliveira, custodian of Sister Lucia. He stated that, according to Sister Lucia, those consecrations did not fulfil what had been requested. One also sees this statement in a letter from Sister Lucia herself to her Jesuit confessor, Father José Aparicio, who lent me her letter: it said that the request had not been heeded.[28]
The two bishops having accepted our suggestion, Dr. Castillo carefully studied the whole issue to indicate how the consecration should be made in order for our our petition to meet all the requirements necessary to do the will of Our Lady.
And so Dom Mayer and Dom Sigaud were the promoters, among the Council Fathers, of the famous petition asking the Holy Father to consecrate Russia to the Immaculate Heart of Mary.
Thus, in the history of Fatima this extremely important event took place: two bishops of the Catholic Church arose and obtained the signatures of another 510 bishops asking for that consecration.[29]
The request was not granted, Our Lady's will was not done.
But history recorded that one movement, Catolicismo's, was sensitive to the voice of Fatima. And through two bishops that movement made the possible and the impossible to have Our Lady's voice resound within the Council in an official and highly prestigious way.[30]
2. Petition to Condemn Communism Intensely Resonates
Also at the Morro Alto Farm, Dom Sigaud, Bishop Mayer and I set the theme of the petition to condemn communism, later signed by 213 Council Fathers from 54 countries.[31]
The petition contained a number of theses from the book, Revolution and Counter-Revolution that would seldom be heard from bishops' lips. Many of those theses were posited as grounds for the petition to have communism condemned.[32]
3. Condemning Communism Would Hinder Ecumenism with Communists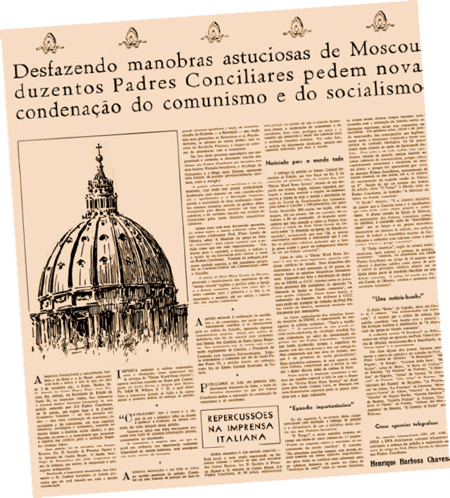 Report of Catholicism on the first [initiative of the Secretariat]: petition of 213 Conciliar Fathers (54 countries) for the Council to condemn socialism and communism, and which would be scandalously boycotted by the Secretariat of the Council, omitting condemnation of the greatest heresie of the twentieth century.
What was the petition's goal?
The Second Vatican Council was numerically the largest council in history. Never had so many bishops gathered in a council. It would be extremely important that it made a condemnation of communism.
Up until that date the Church's position was manifested in a complete condemnation of communist doctrine, a prohibition to all Catholics to read communist books (without proper license), join a communist party, or help maintain or expand communist organizations through any form of support.[33]
Perhaps the limpid rigidity of this attitude was never expressed with greater coherence and strength than in the famous decree of July 1, 1949, approved by Pius XII, in which the Holy Office declared excommunicated and apostates from the Catholic faith all those who profess, defend or disseminate the communist doctrine.[34]
In the new circumstances, a formal condemnation of the communist doctrine by the Council would have been a huge obstacle to ecumenical relations evidently being prepared with communist countries.[35]
4. The Holy See's Pact of Silence on Communism
John XXIII invited to the Council observers of all faiths, including the pro-communist O.C.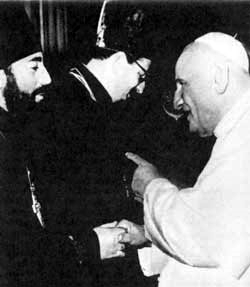 John XXIII with Vitalij Borovoj and Vladimir Kotljarov, two observers of the Russian Orthodox church who participated in the Vatican Council II [30 Giorni, edition in English, DOCUMENT edition no. 08 - 2004 ]
On that occasion, as was largely commented on the grapevine, the condition the O.C. imposed to deign accept the invitation was that any attack on communism at the Council's Assembly be forbidden and that Vatican II refrain from saying anything against it.[36]
And that was the commitment the Holy See made in order to have Russian observers come to the Council.[37] The non-condemnation of communism opened the way for possible negotiations between the Soviet State and the Vatican, and between the Russian "Orthodox" Church and Rome.[38]
At the time, an imperious command circulated among the Council Fathers and also laity closest to the Council: They could write and publish any articles they wanted but never say a word against communism or encourage anyone to do so.[39]
That ban was not official but only unofficial because Paul VI did not want to make public that he had made that commitment.[40]
In other words, on that paramount opportunity the Church had chosen not to speak out against the greatest heresy of our times. And this cast the Church into a truly senseless position: a Council is convened, a heresy is threatening to swallow the Church, and the Church makes a commitment to not speak against that heresy.[41]
5. A Petition: The Only Possible Strategy to Try and Break that Agreement
Once the Holy See accepted the commitment to not discuss the issue of communism, the only way to get around that word of order would be to organize, based on the series of doctrinal and historical reasons contained in our petition, a collection of signatures asking that a condemnation of communism be put to a floor vote.
Representatives of the Russian Orthodox Church certainly would warn the Holy See in advance:
"We've learned about this petition from the conservative bishops' wing. If they take this ahead, we're leaving."
The way out for the Holy See would be to tell those conservative bishops:
"That commitment has been made and therefore the Holy Father wants you to withdraw this petition."
If that happened, and if the members of the conservative wing were willing to take matters all the way to their logical conclusion, they should say:
"Our conscience does not allow us to do that. Your Holiness, if you want, remove us from the Council, but we beg you to state the reason for it."
Had that been done, the history of the Council, of the Church and of the world today would be altogether different.
There is no use claiming they lacked enough members to do so.
At the Council, the conservative coetus consisted of about 30 archbishops and bishops (including Archbishop Sigaud, Bishop Mayer, Archbishop Marcel Lefebvre), out of a total of about two thousand five hundred archbishops and bishops.[42]
Nor would thirty be needed: If only two did that (Dom Sigaud and Dom Mayer, for example), they would have turned the rudder of history around.
6. A Totally Irregular Procedure Blocked the Forwarding of the Petition
In view of all this, I to Dom Sigaud and Dom Mayer to make a petition to have communism condemned. So they asked me to unofficially draft for them a motion to that effect. And I wrote that motion.
This petition was signed by 213 cardinals, archbishops and bishops from 46 nations. And it was presented within the proper deadline for the necessary procedures.[43]
But time went by and there was no response.[44]
7. New Petition against Communism Sabotaged
At the fourth and final session (started September 14, 1965), the Coetus made a new petition — this time with 435 signatures of Council Fathers from 86 countries.[45]
Because of the Council's internal bureacracy the new document had to pass by the desk of Monsignor Glorieux. He was a monsignor like so many others in the Vatican. I am almost sure that at that time he was not a bishop. He might have been made one later because of the great "service" rendered to the innovators' wing.[46] He is the in charge of processing the document.[47]
But Monsignor Glorieux did not act on it at all.
So Dom Sigaud and Archbishop Lefebvre went to see him. And they asked him how the petition was doing.[48]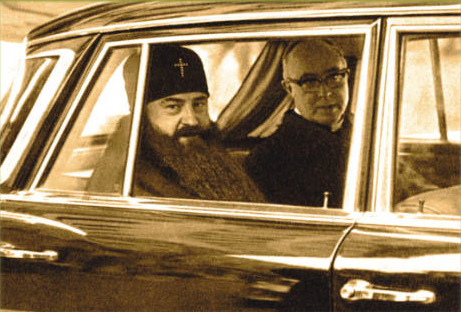 Cardinal Willebrands accompanied by Metropolitan Nikodim on the last day of the Second Vatican Council. The Metz Pact has been respected. Communism was not condemned, nor even mentioned, in the official documents of the Council.
After several evasive maneuvers the monsignor said he had lost the documentation. That was tantamount to saying that it would not be processed.[49]
Thus, the Second Vatican Council failed to condemn the greatest error of our day: communism.[50]
I absolutely could not fail to mention the attitude of the Church in face of her greatest adversary in those days. An adversary so powerful, brutal and cunning as the Church had never seen before in the almost two thousand years of her history. A discussion of contemporary problems facing religion that fails to deal with communism would be as flawed as a world medical conference convened to study today's major diseases that omitted any reference to AIDS.[51]
8
. Dom Mayer and Dom Sigaud's Groundless Optimism
Unfortunately, Dom Sigaud and Dom Mayer joined the Council imbued with a certain optimistic mindset.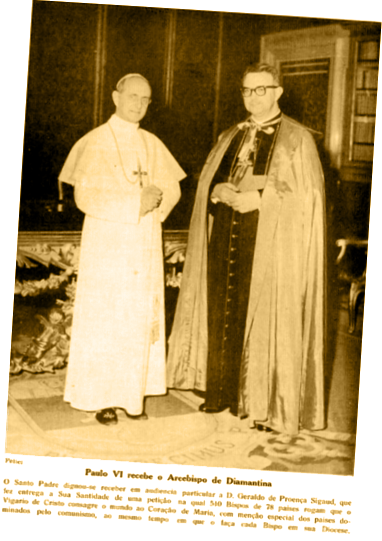 They seem to have failed to measure the extent to which the Revolution had penetrated the mental, ideological and psychological entrails of countless bishops. And above all they did not gauge the extent to which many of those bishops were committed to implement those errors and needed to be confronted with a firm stand.
Now, failure to realize that was one reason for their weak performance.
The two had an obligation to seriously prepare themselves in order to enter the Council armed de pied en cap, from head to toe against the errors they might find and carry out a strong action in the debates.[52] The end result was that Dom Sigaud and Dom Mayer ended up by signing the Council without restrictions.[53]
I remember that when the direction the Second Vatican Council would take began to emerge I insisted with them in every possible way to take a public stand in order to halt that move.
They flatly refused. Dom Sigaud said, "Plinio, there is a difference between what Dom Mayer and I want, and what you want. We want to save the Council!"
I wanted to save the Church! They saved progressivism.
Had a public stand been taken at the right time with the necessary energy, the history of the Church would have changed.[54]
But they did not do what I advised. Why?
There are several hypotheses. But the more acceptable psychological and tactical hypothesis is that led by their avowed optimism, also present in Archbishop Lefebvre, they thought that all that was happening would be worked out in one way or another and that therefore it was not worthy it to engage that frontal combat.
It is the ever-recurring, naive optimism of the good, reminiscent in its own way of the mindset of Louis XVI facing the advance of the French Revolution.[55]
Dom Mayer claimed that he signed the Council because signing it meant nothing! It meant no adhesion to the Council. It was like a notarial act.
Now, there is no such thing as a notarial act that does not mean something![56]
9. The Process of Self-Destruction in the Post-Council
History narrates the innumerable dramas the Church has been going through in the twenty centuries of her existence: Oppositions that germinated outside of her and tried to destroy her. Tumors that formed inside her, were excised, and ferociously attempted to destroy her from the outside.
When, however, had history ever seen, before our days, an attempt to demolish the Church no longer by an adversary but one described as "self-destruction" in a very high-ranking pronouncement with worldwide repercussion? (cf. Allocution of Paul VI to the Lombard Seminary on 7/12/68).
The end result for the Church and for what still remains of Christian civilization, was a huge collapse.[57]
The concrete fact is that there is now a considerable current of Catholics, or rather "Catholics," who no longer accept religion as it was and fight for an aggiornato [updated], communist Catholicism. This is the dominant fact in terms of communism.
This is roughly what Communist Allende stated about the pre- and post-conciliar Church shortly after being elected. He said he had read the Declaration of Bishops in Medellin and the language they used was the same as theirs, Marxists. And that the Church was no longer a factor of opposition to his party but an element in its favor.[58]
The Freedom of the Church in the Communist State (1963): Some Preliminary Remarks

1. Observations from My Marian Congregant Times
It was during the Council that I wrote the book, The Freedom of the Church in the Communist State.
This book has an old story.
Around 1930 there were in São Paulo very active anticommunist groups that imported printed material against communism from a Swiss-based international organization.
I was still a relatively new Marian congregant and a priest handed me one of those pamphlets and told me, "Look, here's the latest in terms of anticommunist propaganda, read it."
I actually read it and it immediately caught my attention that the arguments they employed was that communism burned churches, killed priests and nuns, desecrated the Blessed Sacrament, broke statues, and forbade religious education.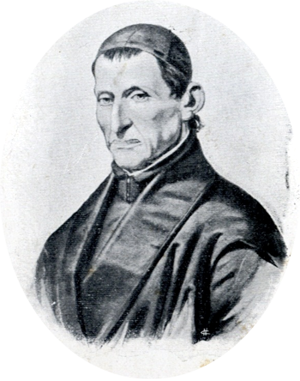 Luigi Taparelli d'Azeglio
Now, I had just read the Treatise on Natural Law by Taparelli D'Azeglio[59] and studied the encyclicals of Leo XIII on social issues.
And those very solid and secure sources pointed to more important points on the incompatibility between communism and Catholic doctrine. For example, they showed that communism sought to eliminate private property. And they affirmed the legitimacy of property in such terms that one could not conceive of an organized society according to the spirit of the Church without private property.
Later I looked for that priest and asked,
"Monsignor, that literature speaks about the incompatibility between communism and Catholic doctrine, but only with regard to communist attacks on worship. Not, however, with respect to property. How does that work?"
And I added:
"If one day a communist regime emerges that tells the Church: 'I organize society without private property but will give you religious freedom,' will the Church approve that regime? Will that do away with the reason for conflict with communism?"
That good priest, considered one of the most conspicuous in São Paulo, skidded on the issue and gave no reply. He was a man of great personality but not much intelligence. And I thought, "He does not navigate with ease on doctrinal issues. He's probably unaware of this point."
From time to time I would ask the same question to some eminent priest or high class person. And the answer was the same beating around the bush, whereas papal documents on the matter are crystal clear.
2. Observations from My Time as Congressman
My lingering question came to a head during my time as congressman.
They had suddenly presented to be included in the Brazilian Constitution of 1934 an article saying, "All riches of the country's subsoil belong to the State."
Up until then, according to the Civil Code, all riches, including in the subsoil belonged to the landowner. He who owned the soil owned the subsoil.
That article had the provision that a government license was necessary to exploit the riches of the subsoil.
We, congressmen of the Catholic Electoral League, were quite numerous. I have bad memory but I think we were 70 or 80 congressmen, led by Tristão de Athayde, who was no congressman but a supervisor of Dom Sebastião Leme with us.
One day I look for Tristão, for one or the other congressman, and say,
"Don't you see it? If today the state takes over the underground, tomorrow it will take the ground as well. By voting this article into law you end up by admitting a communist principle. See the papal documents about this matter."
"Yes, but Dom Leme is not in Rio, he's in Petropolis."
"Phone Dom Leme, go over there. That's what roads are for."
"He does not like to be disturbed on weekends."
*
Then I took a car and went to St. Ignatius School, where they had Brazil's foremost Catholic intellectual: Father Leonel Franca.
I got along with him very well. I still remember his looks: a medium-height, balding Bahian but with an extremely intelligent, glistening baldness. He was seated, quiet, and with a gaze... he had some oblong eyes full of thought.
I went into his office, filled with books, notes, data sheets. He, sitting:
"How are you?"
"Father Leonel, I came to talk to you about such and such thing.
"Don't worry, it it is not important at all."
"But, Father Leonel, this is a doctrinal point.
"No, but these things are not taken so seriously, so don't worry.
"No, I do worry. And I am voting against it."
He:
"It's your right, just as it is your right to vote for it. Do as you wish."[60]
*
I also looked several other priests and posed this question: "Father, is communism bad only when it is atheistic? And is it not bad when it is not atheist? If a communist regime was established that did not persecute the clergy, would you be against that regime?"
No explanation was given. And I realized there was a willingness on their part to soften Catholic doctrine on this matter at the earliest opportunity.
The concrete fact is that, around 1935 all you heard in Catholic circles was talk against "atheistic communism". No one spoke any more against communism while suppressing private property.[61]
3. Observations from My Trip to Rome during the Council
The years went by. And I traveled to Rome for the first phase of the Council.
Dom Sigaud asked me me to join him in his contacts with right-wing bishops. And so I attended a number of meetings.
In those contacts I noticed also on the part of those bishops a very strong desire to make reconciliation between the Church and communism precisely on the classical basis: Russia ceases religious persecution and the Church ceases to fight for private property. And I found it strange.
*
I remember one such meeting held at the Divine Word Congregation's headquarters, with Dom Sigaud present. It was an old building with high ceilings next to a park.
It was getting dark, but the lights had not yet been turned on.
It was a beautiful meeting: a number of prelates dressed in old style, with [pectoral] chain and gold cross, some with a very smart physiognomic expression.
We would sit in chairs that had been comfortable when new but in which one could already notice some protruding springs poking from several sides. A cautious 'policy' was required for seating, just as some political acumen was necessary to talk: they were two concomitant policies.
The meeting was drawing to an end in a somewhat crepuscular ambience.[62]
We were maybe twenty people in the room, talking about one thing and another and some comment broached on something about the Council's policy in the face of communism.[63]
Then I challenged Bishop Roberto Ronca, the same who had published Dom Mayer's Pastoral Letter in Italy. He was attending that meeting.
Monsignor Ronca was a very intelligent man. Tall, fat, ruddy, in his fifties, with remnants of blond hair from here or there on his forehead, but with the looks of a man that could do math and had a positive spirit: A real man.
I told him:
"Excellency, I wanted to ask this question: If tomorrow the Russians descend in Italy and offer religious freedom in exchange for having the Church renounce teaching the principle of private property, can the Church accept that offer? If she does accept it"—I added—"the regime of private property Italy is over and communism is established. And then, poor Italy!"
As I said that out loud and at a time when the conversation was dying, my question caused a general silence. Especially since it was a "checkmate," not a "checkmate on the king" but one "on the archbishop."[64]
General silence! Finally, one of them said, as if answering me, "It is true that the Pope, in that case, will not leave the Vatican."
I kindly said that this was responding to a point within a circle. But what we would need to know is what all the world's bishops would do in such a case; what guidelines would they have: only a guideline to not leave their dioceses? And in this case their attitude would be to stay and talk, or stay and keep quiet? That was the issue.[65]
Then the Archbishop of Pompei (Monsignor Ronca) looked at me and said, "I don't know, dont' know... It's an extremely important issue. But what do you want, professor? We here in Italy live so busy with so many problems that we have no time to study these issues, something that you have in South America with a much more tranquil life than ours."
I thought to myself, "All right, then I will publish a study on this subject that I will send to them and to all those like them; for I notice inside all this a vacuum that does not adequately disguise their lack of courage to address the issue and to take the courageous attitude that will be required if the problem arises. I will delve into this issue."
4. Conversations with Bishops Ivan Bucko and Józef Gawlina
Still in Rome I sought to meet time other, most varied ecclesiastical circles.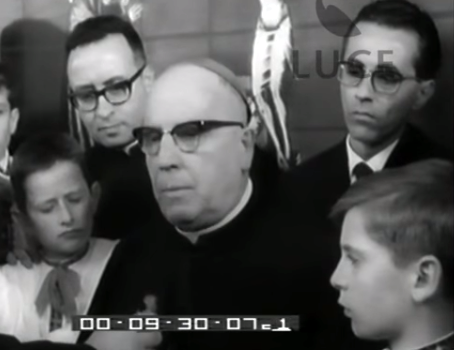 1964 film frame on the occasion of Mons' Ivan Bucko visit to an exhibition on the "Martyr Church" in the communist world, created by the parish priest of a Roman parish. Monsignor Bucko himself was a refugee from the persecution of the Church in Ukraine [Historical archive of Luce Cinecittà].
For example, Bishop Ivan Bucko, later elevated by the Holy See to the rank of Apostolic Visitor of Ukrainians in Western Europe.[66]
I met him in Rome in 1962 at a Ukrainian seminary located in a very beautiful place and with a very picturesque name: Passegiata del Gianicolo.[67]
The Gianicolo is a hill with all the memories of Roman history. Passegiata is a promenade, but a cheerful, carefree walk. And in that place I found a way to learn what the world was like around Ukraine and to get news from behind the Iron Curtain.
As I placed the same problem to him, he told me:
"Professor, I would like to know how to solve it, but it is a very convoluted question."
I asked:
"So wouldn't it be useful for someone to do a study on it?"
"It would be extremely useful. It would be a great service to the cause of the Church."
I said, "All right," but did not tell him about my plan to do it.
*
On that occasion I also met another bishop who was a former general director of the Marian Congregations and had also been to Brazil. I had never met him. He was a Pole, Monsignor Gawlina.[68]
He had been a general in the Polish army during the First World War. Later he became a priest, was appointed bishop by Pope Pius XII, and lived in the Polish church in Rome.
Talking with him I raised the same problem and he gave the same answer: someone needs to do that study.
So I decided, "I'll do it."[69]
The Freedom of the Church in the Communist State (1963): The Soviets Needed Peaceful Coexistence
1. The Old and New Tactics of Communism
What problems did I have to face in order to write that booklet?
Most people had no clear idea that the Communist Party was not a political organization like other party associations. And it was very important to dispel that error.
Communism is not mainly a political party. It is a set of people that have their own philosophy which involves a vision of the universe,[70] of life, and of man.[71] And the advocates of this philosophy seek to mold the whole culture, civilization, and all institutions — political, social and economic — according to that vision.[72]
Communists don't simply want to seize power as an ordinary political party. They want to completely change the whole style of human life and carry out their project in all of the world's countries without any exception at all.[73]
It turns out that from 1917 until 1963, the year I wrote the book, communists had failed both in the West and East in their attempts to persuade. So much so that they had been unable, up until then, to win any free election.
That failure, however, was not complete. They had obtained two very important results.
The first was the triumph of the modernist conspiracy within the Church. The second, the creation of certain insensitivity among the bourgeoisie in relation to socialistic basic reforms which softened the obstacles communism would encounter in the Western mentality.
That is why it suited the communists to retain their old tactic of explicit indoctrination accompanied with a veiled threat of violence, and at the same time to employ a completely new tactic which was that of peaceful coexistence.
2. Russia's Reasons to Adopt a Policy of Detente with Religion
That new tactic became especially accentuated right after the Yalta Treaty.[74]
When Stalin came back from the meeting in Yalta, his first concern was to set up an "orthodox" church led by schismatic clerics who had become communists for fear of dying. It was with representatives of that schismatic church that the Catholic Church dealt with during Vatican II.
Why did Russia suddenly 'break the ice' with schismatics?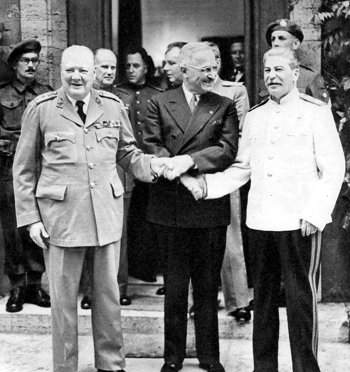 Churchill, Truman and Stalin at Potsdam conference
In the treaty of Yalta, completed after the Potsdam agreements, it was expressly or tacitly established (nobody knows precisely) which European peoples—that later groaned under Communist domination— would be delivered to Russia.
But Stalin realized that this yoke would create a major strategic obstacle for Russia.
One thing is to dominate a people accustomed for centuries to absolute and fierce dominance by the czars. Quite another would be to dominate civilized peoples hostile to Russia such as Poles, Germans, Czechoslovakians, Hungarians.
If Russia did not ease off a bit and make some concessions in religious matters she would be threatened with dangerous disturbances, as communism did not have much support in Russia's own territory.
And those were the two main reasons that led to that ice-breaking maneuver, within Russia in relation to schismatics, and outside Russia in relation to Catholics and Christians in general.
3. Catholic Poland, the Key Country in the Implementation of Peaceful Coexistence
Poland was the most sensitive point for the new Russian policy of detente.[75]
With thirty million Catholics, Poland made up the most compact and influential Catholic bloc beyond the Iron Curtain.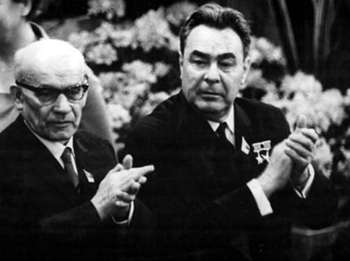 Gomulka with Brezhnev, 1967
Soviet domination encountered two obstacles to become effective: the Poles' centuries-old allergy to Russian colonialism, and particularly the incompatibility between the most Catholic Polish population and the Marxist regime, which by definition is atheist, amoral, and egalitarian.
Such obstacles placed communists in Moscow before an alternative: colonize Poland once again by brutally subjecting her to proconsuls, and at the same time unleash a Neronian religious persecution in the country; or give the nation a minimum of autonomy, have it governed by Polish communists rather than Russians, while allowing the Church a modicum of freedom in such poor conditions that, over time, the communists would be able to extinguish both faith and patriotism. Otherwise, for the Soviets, granting that minimum would be capitulation.[76]
Polish communist leader Gomulka was the agent of this new Russian policy in the civil sphere.
As he assumed the Polish government, Gomulka gave Poland a little independence from the point of view of taxation, political organization, and a little freedom of religion.
He presented Polish Catholics with this thesis:
"Instead of fighting me, support me so as not to lose the little bit you have. If I fall the Russians are coming in to rule."[77]
Seeing the situation exactly with the same eyes as his communist opponents, Archbishop Wyszynski is said to have chosen to accept that minimum.[78]
To simplify, he held this position:
"In the unfortunate situation in which Poland has fallen we cannot want the greater good but only think of the lesser evil. The absolute evil is the extinction of liberty. The lesser evil is Gomulka."
And so it was that a lage part of the Polish Episcopate undertook to demoralize and severely crack down on anti-Gomulka and anticommunist Catholics that might appear.
*
Another argument put forward to support this policy was: "If we make an uprising against Russia the peoples of the West will force their governments to come to our side. That creates the danger of thermonuclear war. Therefore, it is best for Poland to bow its head and accept servitude to spare the world a thermonuclear war."
This calculation resulted into the effective policy of coexistence that was established in Poland: the Polish government showed no signs of wanting to extinguish the Church, except very remotely. And the Church did not try to free herself from communism, except also very remotely. And with that they stood next to each other, collaborating.
These arguments applied not only to Poland but, with small changes, to the whole world.
So, in the West, the idea was created that an arrangement with communists was something possible. In countries where they dominated it would be better not to fight in order to save what little could be saved. And so the Polish problem ended up having an impact worldwide.
4. Church Silence, a Morally Unacceptable Compromise
What did Gomulka ask Catholics in return?
He claimed that he would commit political suicide if he allowed Catholics to regularly and systematically preach in favor of private property.
So, as far as private property was concerned he asked Polish Catholics the same thing the liberal state had asked the Church regarding the separation of Church and State. Catholic seminaries in liberal states taught that, in theory, union between Church and State would be better, but in practice, nowadays separation was better. And woe to the layman or priest who praised union between Church and State! One could not even wax nostalgic of it because ecclesiastical authorities would liquidate anyone who worked to sustain that thesis.
The same thing happened in Poland regarding private property. According to the Ten Commandments, in theory it would be better for private property to exist. But in practice — said the supporters of coexistence — capitalism had so many abuses that it turned out being preferable to establish the community of goods.
In simplified terms, all that is good in theory is bad in in practice; and all that is good in practice is bad in theory. So you had a Religion in theory and a communist practice completely different from the thesis that the person upheld.
The end result was that after listening to this passively for twenty years, Catholics would begin to see as normal the existence of the community of goods, and to eliminate private property from their mental horizon.
This, in short, was the Polish formula for peaceful coexistence.
These were the considerations that led me to write The Freedom of the Church in the Communist State, pointing out what was wrong with it.[79].
The Freedom of the Church in the Communist State (1963): Theses, Dissemination, and Controversy
1. The Book's Main Theses
In my essay I tried to frustrate this maneuver already back in 1963 by showing that it is intrinsic to the communist regime to eliminate or very seriously maim the institution of private property, and to do so is contrary to Church doctrine.[80] No cardinal, no bishop, no priest, no individual faithful wishing to keep his soul free from sin can accept this agreement because it is immoral.[81]
In order to be faithful to her mission the Church could not fail to fight this regime even if it gave her full freedom of worship. That combat would create an inevitable conflict between Catholics and any communist state.[82]
The booklet thus intentionally caused a division among Catholics between those who wanted to bend their knee before the Beast and those who said, "We will never accept such an agreement, whatever the consequences."
This created a great difficulty among theologians, moralists, bishops, and public opinion at large. If there was a strain of Catholics devoted to Our Lady and resolved to accept the thesis of The Freedom of the Church in the Communist State, they would go underground into catacombs or die as martyrs but would ensure tomorrow's dawn of the Church and the Reign of Mary.
2. One Night to Write the Book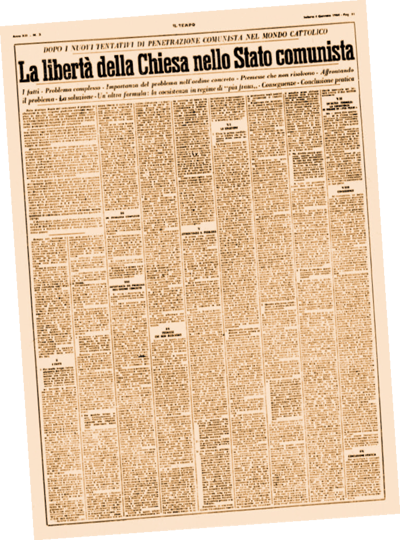 I was still in Rome when I wrote, in one night, most of that essay. I woke up with the essay basically ready.
I brought it to Brazil and came to the conclusion that the time to publish it had still not arrived. It was shelved for six or eight months.
Later I figured the time had come and published it about a month before the second session of the Council.[83]
3. The 2,500 Council Fathers Receive the Work
I asked our Rome secretariat to spread this study to all 2,500 prelates present at that second session of the Council.
In response I received complimentary letters from some bishops, but few in number.[84]
I remember, for example, the letter from a bishop of the Chaldean rite from a nation in Asia Minor dominated by the communists. It was an excellent letter asking me to send the essay to all his clergy to learn what their duty was under communist occupation.
I practically got no letter from Brazilian bishops.
Afterward we send the study to a huge number of magazines. Divus Thomas, an important theological journal from Piacenza (Italy) published an excellent commentary on it, manifesting support for our theses.[85]
4. Unexpected Letter of Praise from the Holy See
Dom Mayer, at our request, had given the book to all Roman Congregations. And in a totally unexpected way there came an excellent letter from the Holy See's Sacred Congregation for Seminaries and Universities.[86] The letter was addressed to Dom Mayer.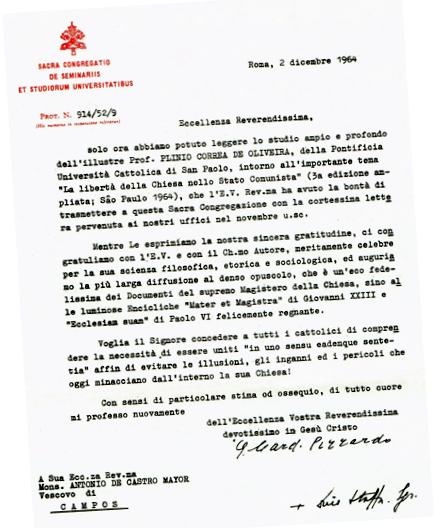 Facsimile of the Holy See's letter of approval to the book The Freedom of the Church in the Communist State [Click on the figure to read the translation of the letter]
I remember to this day that we were holding a meeting at the Pará Street headquarters when they told me Dom Mayer was calling me on the phone. I answered, he talked a little with me, gave me some news, and then said,
"Look, I have here a letter from Cardinal Pizzardo concerning you."
"How's that, Dom Mayer, a letter from Cardinal Pizzardo?"
"I'll read it."
He then read the letter from Giuseppe Cardinal Pizzardo, Prefect of the said Congregation, approving my book, which had also been signed by its Secretary, the future Cardinal Dino Staffa.[87]
I was delighted! For I expected anything but that letter.[88]
I asked Dom Mayer to dictate the text over the phone and communicated it to the plenary. And later he sent an emissary from Campos to São Paulo especially to bring it.[89]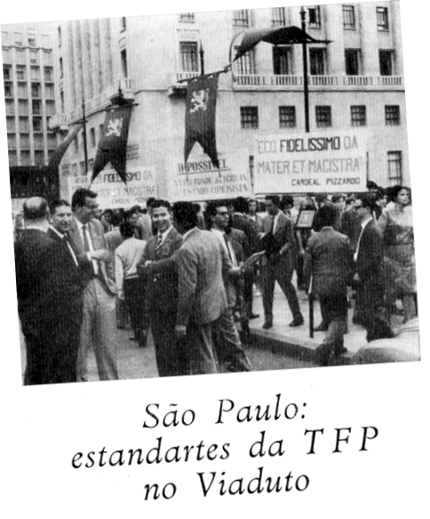 Thus reported "Catholicism" no. 173, May 1965, the public launch of the banners of TFP
In fact, that letter from the Holy See actually pierced the wall and seemed deliberately calculated to do so. On behalf of a high-ranking dicastery of the Holy See, it declared that our thesis was entirely orthodox.[90]
The importance of this letter to our consciences and to garner support for our theses was simply incalculable.[91]
The letter was indeed authoritative and manifested unrestricted support and approval.[92] Our opponents were struck at seeing that the TFP, said to be frowned upon by ecclesiastical authority, had received a second letter of praise from the Holy See (the first had been on the book In Defense of Catholic Action).[93]
5. Kierunki: Controversy behind the Iron Curtain
In the meantime, a controversy arose with the leftist Catholic weekly Kierunki, making it clear that the study had rebounded behind the Iron Curtain.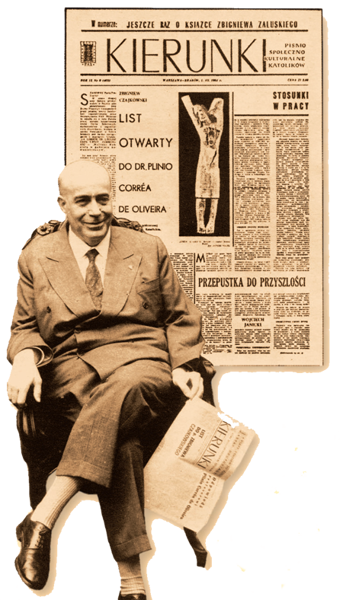 The Kierunki weekly and the monthly magazine Zycie i Mysl, both from Poland, violently attacked The Freedom of the Church in the Communist State. The controversy began when Mr. Zbigniew Czajkowski, who wrote for those two journals, published extensive articles against my essay. I replied in the pages of Catolicismo.[94]
There followed a controversy in which the Paris publication L'Homme Nouveau intervened in support of my work through the pen of its collaborator Henri Carton, while Témoignage Chrétien — a ferociously communist-progressive French magazine—sided with Czajkowski.[95]
In turn, Mr. Tadeusz Mazowiecki,[96] editor in chief of the monthly magazine Wiez and a congressman at the Polish Diet for the Znak Catholic group, published in his magazine (No. 11-12, November-December 1963) in collaboration with Mr. A. Wielowieyski, an article that tried to be a rebuttal of the study.[97]
*
To this day we do not know what caused that controversy.[98]
Because of the Iron Curtain, our study could not have torrentially penetrated into Poland. And for a newspaper there to have to refute it, one can assume that it was taken by someone who made a clandestine Polish edition which disturbed collaborationist Catholic circles. Hence the need for the newspaper Kierunki to address the issue.[99]
The concrete fact is that our essay was largely disseminated. Editions and translations in several languages ​​were prepared. And the TFP spread them all over.
We fulfilled our mission, said the truth that had to be told, and disseminated it widely. It was now up to others to render accounts to God for what they were able to read but took no advantage from.[100]
*
Twenty years after publishing our essay there appeared minorities within the episcopates from around the world which, anticipating the problem of coexistence with communism, proposed to solve it in the worst way. Some churchmen even called for unilateral nuclear disarmament of Western nations with the motto: "Better red than dead." Which meant: "It's better to be a communist than to be killed." So we had better surrender.
In the United States, representatives of this Episcopal minority sustained this thesis: "Russia will not disarm. If we do not disarm there will be nuclear war. Now, nuclear war is such a great evil that it is better for Russia to take over the United States.
---
NOTES
---