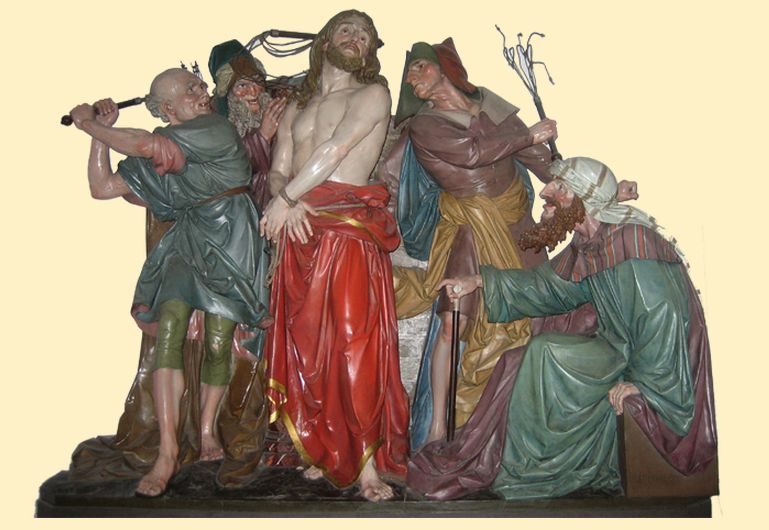 Parish's church in Altötting (Bayern)
Amidst the current sufferings of the Mystical Body of Christ, our Holy Mother Church, presently under fierce attack from internal and external enemies, let us follow some thoughts of Prof. Plinio Corręa de Oliveira, who always brought Our Lord's Passion, an event of 2000 years ago, into current focus during his Lenten lectures.
There is often a defect in our meditations that diminishes their effectiveness. It is to ponder episodes from the life of Our Lord without linking them to our lives and to what happens around us. Accordingly, we are shocked at the inconsistency and ingratitude of the Jews, when, shortly after having honored Jesus with a solemn procession as Savior they crucified Him with a hatred many find hard to understand.
The Jews of 2000 years ago, when Our Lord walked the earth, are not alone in exhibiting this ingratitude and inconsistency. Still today, in the hearts of so many of the faithful, Our Lord must bear this recurring swing between adoration and insults. And this happens not only in the unseen depths of the consciences. In many countries, Our Lord has been successively glorified and offended in a short period of time.
Let us not spend our time only in horrified contemplation of the infamy of the deicide people. For our salvation, it is far more useful that we contemplate our own infamy. Trusting in God's goodness, this is how we can truly amend our lives.
Reparation for today's offenses against God
Everyone knows that sin is an insult to God. The person who commits a mortal sin expels God from his heart, breaks the filial relations he owes God as his Creator and rejects His grace. Here we have a revealing analogy between the Jews who killed Our Lord and ourselves when we commit a mortal sin. Yet, again and again, after having ardently glorified Our Lord by good deeds or at least by going through the motions, we commit a mortal sin and crucify Him in our heart!
There is no doubt that Our Lord is gravely offended in our days. Let us become souls of reparation. If we are not able to make reparation with the light of our virtue, at least we can do so by the sincerity of our humility. Sincere humility is intelligent, reasonable, and solid, not flowery words and emotional chest-beating. During this Holy Lenten season our humility can make reparation before the throne of God for the countless offenses committed against Him at every moment.
---
(*) The preceding article has been translated and adapted for publication without the author's revision.
---