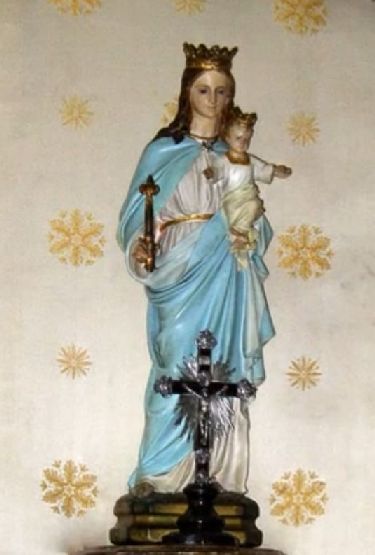 Statue of Our Lady Help of Christians which Prof. Plinio mentions in this lecture
We are in the novena of the Blessed Virgin Mary Help of Christians. Our Lady is the help of Christians from so many standpoints that one could almost make an encyclopedia on this topic. But I have the impression there is an aspect we could very well consider, and it is the more lively part of devotion to Our Lady.
In general, a lively devotion to Our Lady begins with some help from her that causes a dawn of confidence to rise in the soul.
Usually, in everyone I have seen who has a true devotion to Our Lady that devotion began with a kind of good offices of Our Lady to the person.
The person runs into trouble - sometimes spiritual, sometimes temporal, sometimes one thing or another - and asks Our Lady to save him. And Our Lady, while saving him from those difficulties also works something in his soul in the order of imponderables and in the order of grace whereby he acquires as it were a taste of her maternal, smiling, affable and kind goodness and with it a lively hope that She will heed him again in other difficult circumstances.
This insistent pleading for all kinds of graces – above all for the love of God, which is the grace we should beseech the most – ends up by growing in a crescendo in such a way that Our Lady becomes ever more exorable and maternal and her assistance more meticulous as the person grows in this kind of acquired taste for the affable and smiling providence She shows toward him.
In fact, at times people end up by asking Our Lady for real trifles, little insignificant things that She grants like a mother who wants to give her children things great and small and who smiles with special affection when asked for small things.
There is here a kind of aurora of confidence, a dawn of true understanding of what our relationship with Our Lady is about; and even if the soul goes through very long and tough trials and periods of aridity and difficulties, some of that remains. It is like a light that accompanies the person throughout his life, including the last and bitterest throes of death.
I highly recommend that you ask Our Lady at least for the grace of placing you on the special, tender loving path of making these small requests, asking for these small favors in a kind of intimacy with her. Sometimes she will even do us this favor: we ask her something which is not in her designs to grant because it is a trial through which we must pass and that is the way she wants it to be. Well, Our Lady does not give what we ask but gives us strength to endure what is coming, which turns out to be much bigger than we assumed. And after all is said and done She ends up by giving something better than what we asked for.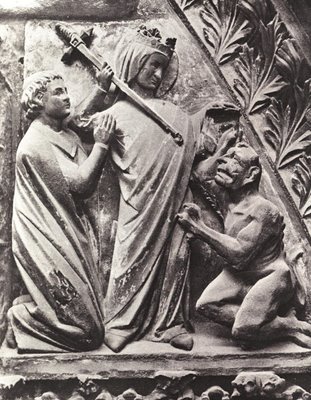 Medieval legends present this true aspect of Our Lady
Those medieval devotional books, and those legends about devotion to Our Lady in the Middle Ages, some real and others imagined, present this gracefulness and kindness of Mary Most Holy in dealing with souls; and they do it in a magnificently amenable and interesting way.
It is beside the point whether the story is true regarding the men who participated in it, for it is true about Our Lady: it shows a real aspect of hers. Therefore, albeit legends, they are theological and Marian legends and give us a precise idea and feeling of what Our Lady is like.
In this regard I remember an episode narrated, if I'm not mistaken, by St. Alphonsus Liguori in the Glories of Mary.
A person in the Middle Ages had a strong desire to see Our Lady and would give everything to obtain that even if he had to go blind. He then had an inspiration, or an angel came and let him know that if he accepted to become blind for the rest of his life he would be granted the grace of seeing Our Lady. He accepted. Our Lady appeared to him in a resplendent beauty, immensely kind, regal, motherly, and he was ecstatic. When the vision faded he found that he was blind in only one eye rather than both. Yet he was left with such nostalgia for Our Lady that he made a new request and again was asked: do you consent to become blind in the other eye? He hesitated for a bit and said, "I do. I want so bad to see Her once again that I consent to become blind in the other eye!" Our Lady appeared and spoke with him; and when the vision went away he could see perfectly well from both eyes!
I am not interested in knowing whether this episode really happened or not, because I know that this is how Our Lady actually is! In other words, She can have us go through dire straits to prove our love and take away one of our eyes or make us go through some anguish but in the final analysis She ends up by smiling; and though we must pass through the necessary trials everything ends with a smile of Hers.
Another, better known legend that you all certainly remember but I mention for the sake of pleasure is that of the famous juggler of Our Lady. A man who knew the art of juggling but all he knew was to play with five wooden balls in his hands or something of the sort. Wishing to please Our Lady and knowing nothing else to do, he went to a church at a time no one was present and presented his juggling act to Her. And Our Lady appeared to him and smiled to show how pleased She was.
Filial confidence in Our Lady is the starting point to have a lively devotion to Her
This is how we also should be. When presenting our offerings to Our Lady, however small they may be, we should do it entirely confident that She will be pleased.
If we fail to do so our devotion to Her will never be perfectly true. We must have toward Our Lady a kind of unembarrassed ease and intimacy like a son who, even when he saddens Her, presents himself before her completely confident of obtaining her help and her smile.
This is the ineffably suave starting point of a lively devotion to Our Lady.
I am far from saying that this is enough. There is no question that to the degree that his intellectual resources allow, a person should study the foundations of devotion to Our Lady and have them reasoned and laid out so as to form a profound conviction based on dogma. But intellectual formation is one thing and the life of devotion is something else. Both complete each other. This magnificent union explains precisely why such a great Doctor of the Church as St. Alphonsus Liguori wrote his book, the Glories of Mary illustrating several doctrinal theses with concrete facts.
So it is quite appropriate for us on this evening of preparation for the novena of Our Lady Help of Christians – we who pray to Her every day and have her statue in our chapel– to remember this in order to ask Her for that grace of special sweetness in our devotion. It is a kind of flower of Catholicism which cannot be found, for example, in a Protestant soul.
---