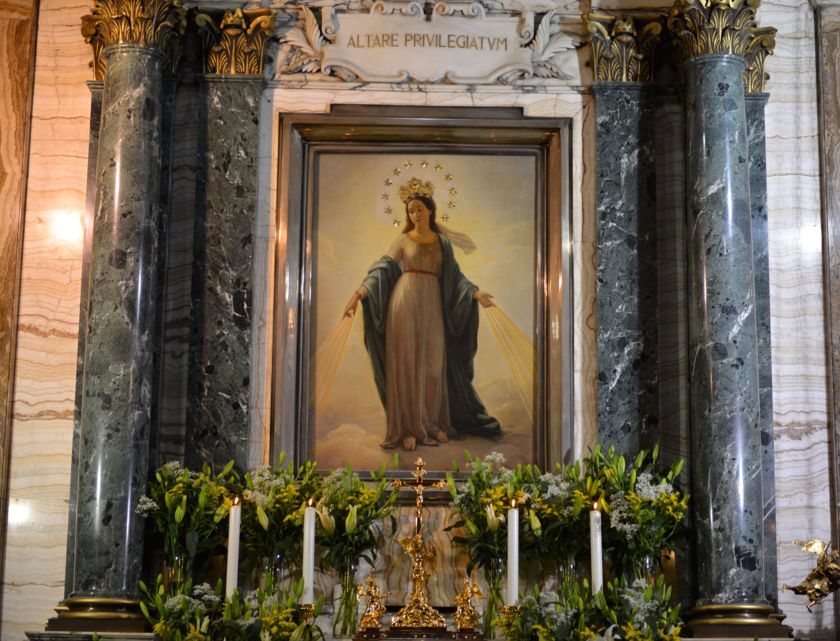 Our Lady of the Miracle (Madonna del Miracolo) venerated in the Church of Sant'Andrea delle Fratte (Rome)
After narrating the history of the Miraculous Medal and the conversion of Alphonse Ratisbonne to Catholicism in Rome (January 20, 1842) with Our Lady's splendid apparition, Prof. Plinio Corrêa de Oliveira comments on the ineffable happiness of unpretentiousness, purity, and admiration in the picture of Our Lady of the Miracle (Madonna del Miracolo) placed over the altar where the portentous event took place.
* * *
The picture of Madonna del Miracolo (Our Lady of the Miracle) shows her with the forehead topped by a crown and a halo-shaped ring of 12 stars.
Her face is slightly smiling, her eyes turned to those kneeling in front of her. She is very affable but at the same time very regal. She gives the impression of being a tall and slender person without being thin; she is very well proportioned and displays an imponderable awareness of her own dignity.
One gets the impression of a queen, much less by the crown than by her overall deportment, a mixture of grandeur and mercy.
A person who contemplates it tends to be appeased, serene, reassured, as if soothed in his stirring evil passions. I think this appeasing aspect is the most touching element of this image. It is as if she were saying, "My son, I will it get all worked out; do not fret, I am here listening to you — who are in need of everything — but I can do anything and it is my desire to give you everything. So, do not doubt; wait a bit and I will heed you abundantly. For you I have no reservations or refusals, not even recriminations for your sins. I am looking at you with a state of soul, a disposition of mind in which you will obtain from me all that you ask for and even much more."
The painting has a certain air of mystery, but a suave and diaphanous mystery. It would be like the mystery of a day with a very blue sky when you ask yourself what could there be beyond the blue. It is not a thick mystery, but one behind the blue and not behind clouds. And it is as if that mystery were saying: "If you only knew the gift of God, if you knew how much I have to give you and what wonders exist in me, then you would understand. I see these wonders and overflow with desire to give them to you. How well you would understand who I am if you wanted to open your eyes to these wonders."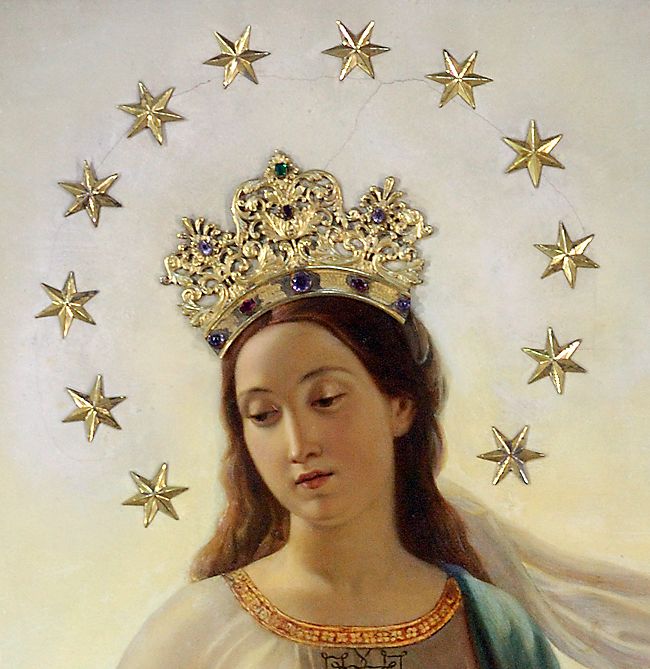 The appeasement she communicates is a kind of first step for a person who wants to open himself to marvel so that, when receiving that mysterious action of grace he begins to admire and try to figure out what is in her and what she is saying or expressing.
Note the impression of purity the picture conveys. She communicates something of the pleasure of being pure, making you understand that, contrary to what many people think, happiness is not found in impurity, but the opposite. By truly having purity we understand the ineffable happiness it gives, compared to which all the pseudo happiness of impurity is trash, torment, and affliction.
Note also her humility. She displays the bearing of a queen but shrinks from all superiority over the person praying in front of Her. She treats the person as if he were proportional to her whereas none of us has that proportion, not even saints.
However, if Our Lord Jesus Christ were to appear she would kneel to worship the One Who is infinitely more than her: She has the ineffable happiness of unpretentiousness and purity.
In a world which the devil increasingly drags toward evil through the pleasure of impurity and pride, Our Lady of the Miracle communicates to us this pleasure of unpretentiousness and purity.
It is a most suave call to herself without scolding or reproaching, as if saying: "My son, do you remember the early days of your innocence? Don't you remember what you were like before sinning? Don't you remember how things like that existed in you? That is what I offer you. I will restore you! Open yourself up to me, look at me. I will give you that. Come! On the path leading to me there is only forgiveness, kindness and attraction. Come soon!"
It is not difficult for us to establish a relationship between these traits and the Counter-Revolution, presented here not in Our Lady's militant aspect while crushing the serpent's head but in her maternal aspect as she tries — with a smile — to pry from the claws of the Revolution those being victimized by it and thereby does a most excellent work for the Counter-Revolution.
Is it not true that a soul that accepts being impressed and influenced by this image becomes highly conducive to admiration? And highly conducive to admire the hierarchy of things superior to him and — in his own dignity — to wish everything below him to be hierarchically organized as well?
Under this point of view, while it would be exaggerated to say that this image represents Our Lady of the Counter-Revolution, we could say that for those fighting for the Counter-Revolution this picture is a very lofty expression of one of Our Lady's aspects: her permanent Counter-Revolution until the end of the world.
These are a few comments about this image along the lines of "Ambiences and Customs." With what advantage for our souls? I do not know. At least, they might perhaps explain a little to our youth how to analyze an image, what to look for when viewing one, what good effect it can produce in us and what state of mind — simply by existing — a picture can communicate to our souls.
The Sant'Andrea delle Frate Church sits a few blocks away from the famous Piazza di Spagna and next to the headquarters of the Congregation for the Evangelization of Peoples. An extraordinary event took place at this sanctuary: Our Lady appeared to a rich and famous Jew, Alphonse Ratisbonne, who carried a Miraculous Medal although not by devotion, converting him to Christ.
Above the altar where the Blessed Virgin appeared there was a picture of Saint Michael the Archangel striking the devil that can be admired today elsewhere in the church.
It was at this same altar of the Apparition that Saint Maximilian Kolbe, killed in the infamous Nazi concentration camp of Auschwitz, celebrated his first Mass on April 29, 1919.
(*) The preceding article is taken from an informal lecture Professor Plinio Corrêa de Oliveira gave on January 20, 1976. It has been translated and adapted for publication without his revision. – Ed. American TFP
---