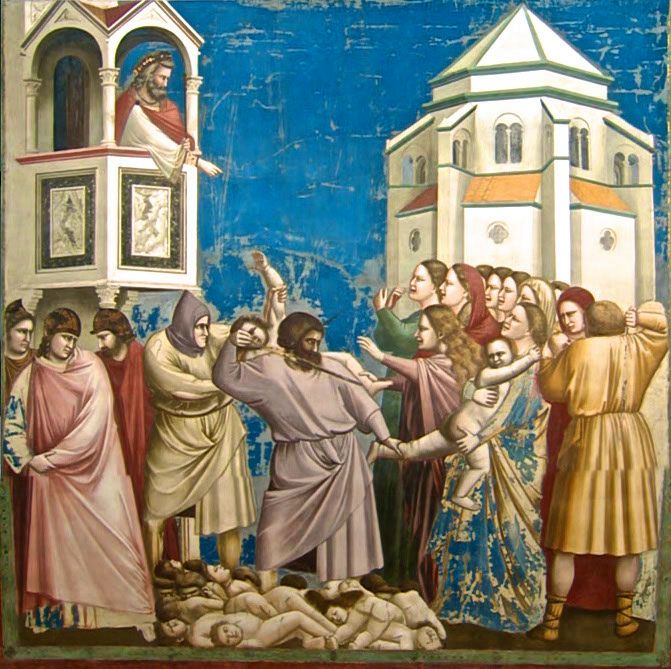 Massacre dos inocentes (Giotto)
1940-08-18 - Uma obra digna de apoio / Não há grande cidade onde o morticínio dos inocentes assuma proporções sinistras. E se quisermos buscar as causas dos males que hoje afligem a humanidade, não seria difícil encontrá-las ao menos em parte nessa grande matança de inocentes. - Nosso século conheceu um mal mais atroz do que o extermínio das crianças por ordem de Herodes. Não é mais o soldado cruel que invade o lar e arranca ao colo materno a criança inocente e, ferindo-a, fere a Mãe. É o egoísmo germinando no próprio coração materno e levando a Mãe a desejar estancar a própria fonte da vida. A espada foi substituída pela ciência e o soldado pela Mãe, que não elimina apenas a vida, mas evita. Além disto, há outra forma de matar os inocentes: é a insuficiência do salário paterno. Se Deus promete tantos e tais castigos para os que oprimem injustamente as crianças, que recompensas e que indulgências não encontrarão junto a Ele os que as protegem?
1944-01-23 - 7 Dias em Revista - Átila é hoje Hitler. Hitler morrerá, seus dias estão contados como os de Baltazar. Mas Átila não morrerá, porque Hitler é Átila. Átila não é Hitler. Átila é a barbárie que desponta em muitos quadrantes do mundo moderno. Átila não é um homem, nem um povo, mas uma ideia, ou antes uma anti-idéia. Foi Átila que organizou na Alemanha os campos de concentração, as Ordensburg [campo de concentração], as SS, todo o infame aparelhamento do partido nazista. Foi ele que tentou derrubar os altares de Cristo para conglomerar os povos em adoração ao sol no recesso das florestas.
Mas se Átila sofreu um rude golpe com a queda de Hitler, todavia não morrerá com Hitler nem com o nazismo. Átila continuará a viver nas escolas onde se fizer a apologia da força, nos laboratórios onde se aconselhar a esterilização e se matarem os nascituros, nas correntes em que se afirmar que o homem não é livre nem senhor de seus atos, mas escravo da bestialidade insofreável de seus instintos: isto é que é Átila.
Átila mostrou no nazismo toda a sua face bestial e abjeta. Morto o nazismo, Átila porém não morrerá. Átila é um estado de espírito. Átila é, como dissemos, uma anti-idéia, que não é huna, nem germânica nem latina, nem saxônica, nem negra, nem eslava, nem nipônica, mas que em qualquer raça pode de um momento para outro dominar.
1983-01 - U.S. Catholic Bishops Challenged Over Their Inconsistency: "Catholic Bishops of America: Why Show Such Extreme Panic Over the Slaughter That Could Be Caused By A Nuclear Hecatombe And No Panic Over The Slaughter Caused By Legalized Abortion?"
1983-01-05 - Plinio: o "não" mais categórico contra o aborto / Entrevista para o semanário "Edição Mineira"
1983-04-01 - Spain: Faced with the Slaughter of the Innocents — Within the Limits of the Law and Order: Holy Indignation / An Appeal of the Spanish TFP
1983-04-05 - TFP-Covadonga: "Ante la matanza de los inocentes — Dentro del orden y de la ley: santa indignación". Los católicos son invitados a dejar las actitudes pasivas y melancólicas y a reaccionar vigorosamente frente a la amenaza abortista. Contiene numerosas citaciones de documentos pontifícios, siempre censurando severamente el aborto, y documentos de fuentes socialistas mostrando que el aborto forma parte de todo un estado de cosas soñado por ellos (socialistas y congéneres).
1983-04-01 - TFP-Covadonga: "Face à matança dos inocentes. Dentro da ordem e da lei: santa indignação" / Substanciosos argumentos e documentos a respeito do tema - A matança dos inocentes e a tutela dos esquerdistas - Apelo especial à opinião católica - Um estado de espírito - Doutrinas - A indignação, um dever moral - Um apólogo - Súplica da TFP - Abaixo-assinado pró-referendum: uma iniciativa que entusiasma.
1983-08 - Plinio Corrêa de Oliveira ressalta importância da moral católica quanto ao aborto / "Na Espanha a Hermandad Sacerdotal, prestigiosa organização que congrega membros do Clero espanhol, afirmou que cada aborto constitui um assassinato. Assim, à medida em que a impunidade legal venha a favorecer no Brasil que o aborto se introduza em nossos costumes, ocorrerá um número indefinidamente crescente de assassinatos. Tudo isso abre como que um rio de pecados a 'bradarem aos céus clamando por vingança', segundo a expressão do Catecismo".
1983-08 - Una indispensable campaña contra el aborto / A medida en que la impunidad legal venga a favorecer que el aborto se introduzca en nuestras costumbres, ocurrirá un número infinitamente creciente de asesinatos. Todo eso abre como un río de pecados que "clamarán a los cielos por venganza": expresión enérgica que está hasta en los Catecismos. ¿Puede haber algo más terrible para un país?
1984-01-23 - TFP norte-americana: "Defendemos o direito à vida dos inocentes. Quem defende grandes princípios morais com verdadeira convicção nunca será derrotado".
1984-01 – American TFP - Antiabortion Rally Rebukes Softliners: "We defend the right to life of the innocents. He who defends great moral principles with true conviction will never be defeated." - "No Compromise".
1984-06-21 - Auto-demolição na Santa Igreja Católica, Apostólica, Romana e o aborto
1985-07-13 - Carta Pastoral de Dom José Guerra Campos, Bispo de Cuenca (Espanha): A legitimação de um crime / A Lei imoral - Não pode cessar a oposição à lei do aborto - É imoral cooperar na aplicação dessa lei - Ruína moral da sociedade - Os católicos em sua relação com a Igreja.
1985-07-13 - Carta Pastoral del Exmo. Sr. Obispo de Cuenca (España) contra la implantación del aborto en su país / "¿Qué se ha hecho, en determinados ambientes eclesiásticos, de las tan cacareadas «denuncia profética», «voz de los que no tienen voz», «conciencia crítica de la sociedad»? ¿Dónde está Juan Bautista diciendo a los poderosos: «No te es licito»? Los profetas, ¿se nos han vuelto de pronto complacientes cortesanos?"
1985-13-07 - In Spain, "The Whole Nation Is Stained" - A Pastoral Letter Against the Legitimation of Abortion written by the Most Reverend Guerra Campos, Bishop of Cuenca
1986-01 - The American TFP: "A child in the mother's womb, has a right to life directly from God and not from the parents or from any human society or authority."
1987-06-30 - Aborto, eutanásia, Fátima e a "Bagarre" / Breve exposição a jovens baianos e canadenses
1988-08 - TFP canadense: "Em matéria de aborto, não é possível uma alternativa 'moderada' porque o aborto é o massacre de inocentes. A legislação abortista mais moderada seria aquela que permitisse apenas um massacre moderado de inocentes. A única forma aceitável de moderação é a rejeição total".
1989-01 - American TFP: A Call to All Catholics – A Call to All Americans, Abortion: "A real salughter of the innocents is being carried out every day throughout the world" – John Paul II / The American TFP Convokes All Catholics to Oppose This Calamity
1989-01 - EUA: Um vigoroso NÃO à matança de inocentes. TFP norte-americana publica manifesto "Uma verdadeira matança de inocentes se faz diariamente em todo o mundo".
1990-01 - The American TFP brings to Light, Courageous Statements by American Bishops Protecting Morality and Human Life: "No Catholic can responsibly take a 'pro-choice' stand when the 'choice' in question involves the taking of innocent human life."
1991-05-15 – Declaração do Prof. Plinio sobre o aborto
1994-01 - The American TFP: Guaranteeing the Next Generation of Pro-lifers - "This child, who is alive today because he was not aborted, could become an abortionist tomorrow. To prevent this we must instill in our children the principle of respect for life as commanded by God: Thou Shalt Not Kill!"
1994-12 - Letter sent to Her Majesty, Queen Sophia of Spain by more than 50,000 Spaniards - The Spanish TFP-Covadonga and the campaign through its "S.O.S. Familia" association.
1995-01 - The American TFP to the Pro-Life Movement: Let's Be Consistent!
1995-05 - TFP-Covadonga de nuevo en defensa de la vida: "¡No a la matanza de los inocentes!" El Vicario de Jesucristo condena severamente el aborto
1995-08 - TFP espanhola faz campanha contra o aborto
1995-09 - TFP-Covadonga vs. Spain Socialist Abortionists: since its foundation in 1971, the Spanish TFP has not spared efforts in defense of the perennial principles of Christian civilization, with a special emphasis in favor of the unborn.
---