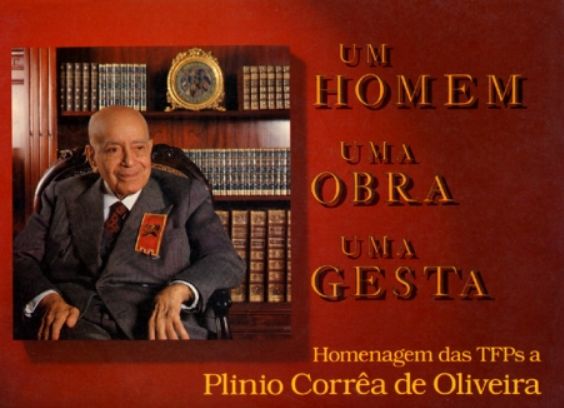 PROF. PLINIO CORRÊA DE OLIVEIRA was born in 1908 in São Paulo, Brazil, a country having the largest Catholic population in the world. Both his parents came from traditional aristocratic families.
He dedicated his life to promoting the cause of the Catholic Church and Christian civilisation. In 1928 he joined the Marian Congregations, then Brazil's largest Catholic movement, soon rising to national leadership, and distin- guishing himself as an orator, lecturer and man of action. At twenty-four years of age he was elected to the Brazilian Constitutional Assembly of 1933 as a candidate for the Catholic Electoral League.
In the following years he practiced law, held the chair of history of civilisation at the University of São Paulo Law School, and the chair of modern and contemporary history at the Pontifical Catholic University of São Paulo. In 1960 he founded the Brazilian Society for the Defence of Tradition, Family and Property, serving as its president until his death in 1995.
As a thinker and writer, Professor Corrêa de Oliveira made a major contribution to modern Catholic thought. An avowed Thomist, he was the author of 15 books and over 2,500 in-depth essays and articles. His works include: In Defence of Catholic Action, Revolution and Counter-Revolution, The Church and the Communist State: The Impossible Coexistence, Nobility and Analogous Traditional Elites in the Allocutions of Pius XII and many others.
While president of the São Paulo Archdiocesan Board of Catholic Action, he directed the weekly Legionário, making it Latin America's front-ranking Catholic newspaper. Later, he was a contributor to the influential monthly magazine Catolicismo, and a syndicated columnist with Brazil's largest daily newspaper, the Folha de São Paulo.
Professor Corrêa de Oliveira's life and work was the inspiration for other Catholics around the world to establish TFPs in their respective countries. His legacy is seen today in the thriving school of thought he founded and in his worldwide following of disciples.
---